Not sure which formulation is right for your needs?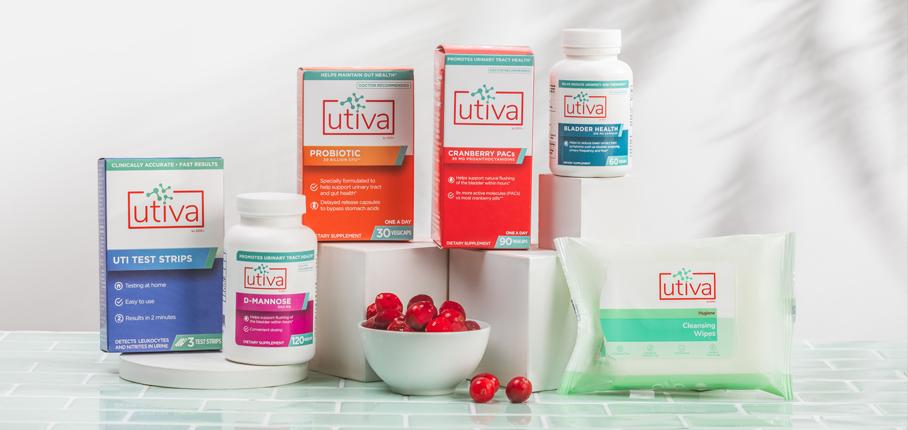 Shop All
Utiva has a comprehensive portfolio of urinary tract health products for UTIs and overactive bladder. Each of our products are backed by science, recommended by doctors and trusted by thousands of customers.
Learn more
What is the Utiva difference?
100% natural
Doctor Recommended

Clinically Proven
Non GMO & Gluten Free
Vegan & Halal
Locally Made
Learn

how

Utiva

has helped others to

live free of UTIs


"I started taking Utiva because I was experiencing bladder issues as I went into menopause"
Since taking it daily, I no longer feel the sudden urge to urinate several times a day, and overall I feel like my bladder health has improved a lot. I highly recommend women in peri menopause and menopause take 1 capsule of Utiva daily to help maintain healthy urinary bacteria levels.
Andrea Donsky, RHN
Bladder health due to menopause


"Those of us who suffer from UTIs know how frustrating it can be".
Instead of antibiotics every time, I tried to find natural options so I didn't have to put my body through so much medication. discovered Utiva in one of my searches and started to look more into this 36mg PAC formulation. I had taken a bunch of cranberry pills before but none of them worked...
Read More


"I've regularly had easily identified full-blown UTIs treated with a variety of antibiotics".
I learned of Utiva through a friend and am so very relieved to have found it. I take it daily along with a capsule of D-Mannose and, for the first time in years, feel that my UTI's are under control. Whew!!"
4.8
2,783+ Reviews