discover
discover
discover
discover
discover
discover
discover
discover
discover
discover
discover
discover
discover
discover
discover
discover
discover
discover
discover
discover
discover
discover
discover
discover
discover
discover
discover
discover
discover
discover
discover
discover
discover
discover
discover
discover
Revolutionize your UTI prevention game plan
The active ingredient – proanthocyanidins or PACs for short, make all the difference. Taken once daily, this molecule which is found in cranberries and when dosed at 36mg a day is clinically proven to help prevent UTIs.
Proanthocyanidins
[Prow·an·thow·sai·a·nuh·dnz]
---
or PACs for short, are the active molecules found in cranberries that fight UTI-causing bacteria
How they work
UTI causing bacteria have arms with hand-like suction cups that allow them to stick to your bladder wall, which causes an infection. PACs work by blocking these hands.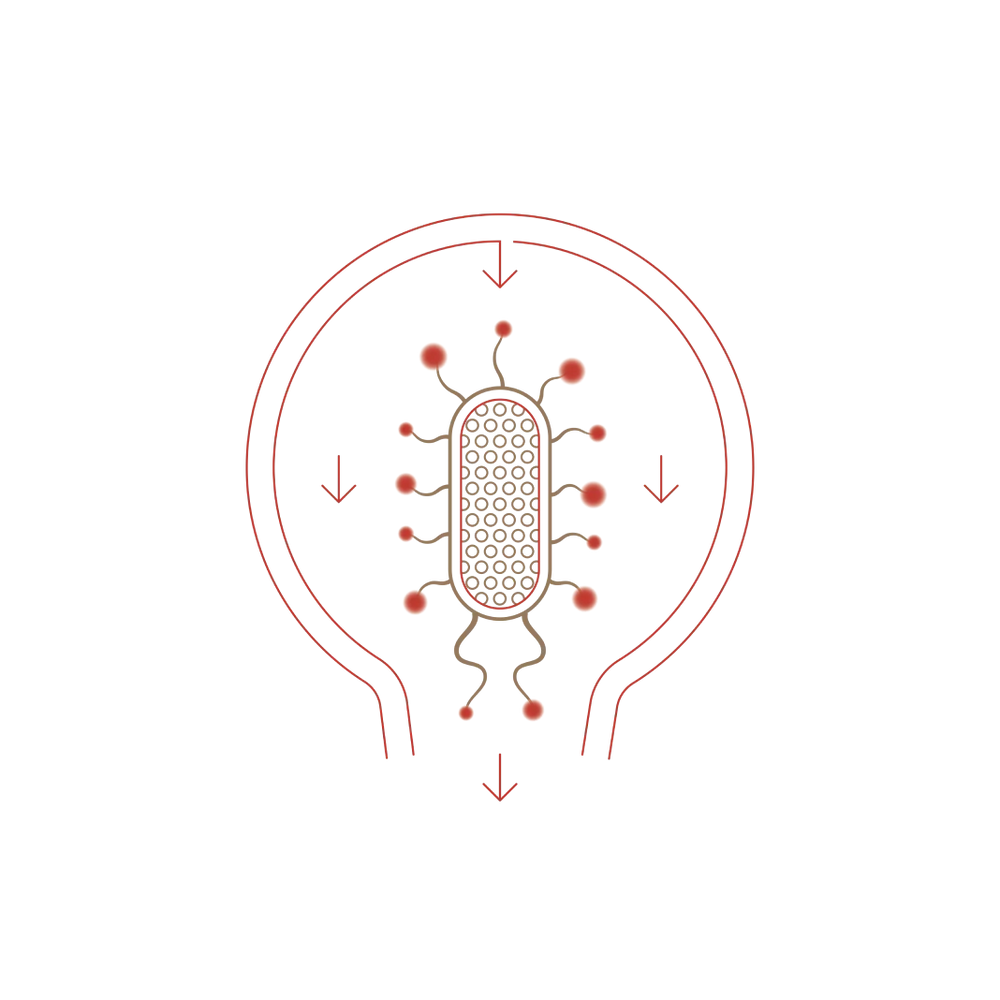 Flushing out bacteria - without the ability to attach to the bladder or urinary tract walls, the bacteria is flushed away when you urinate.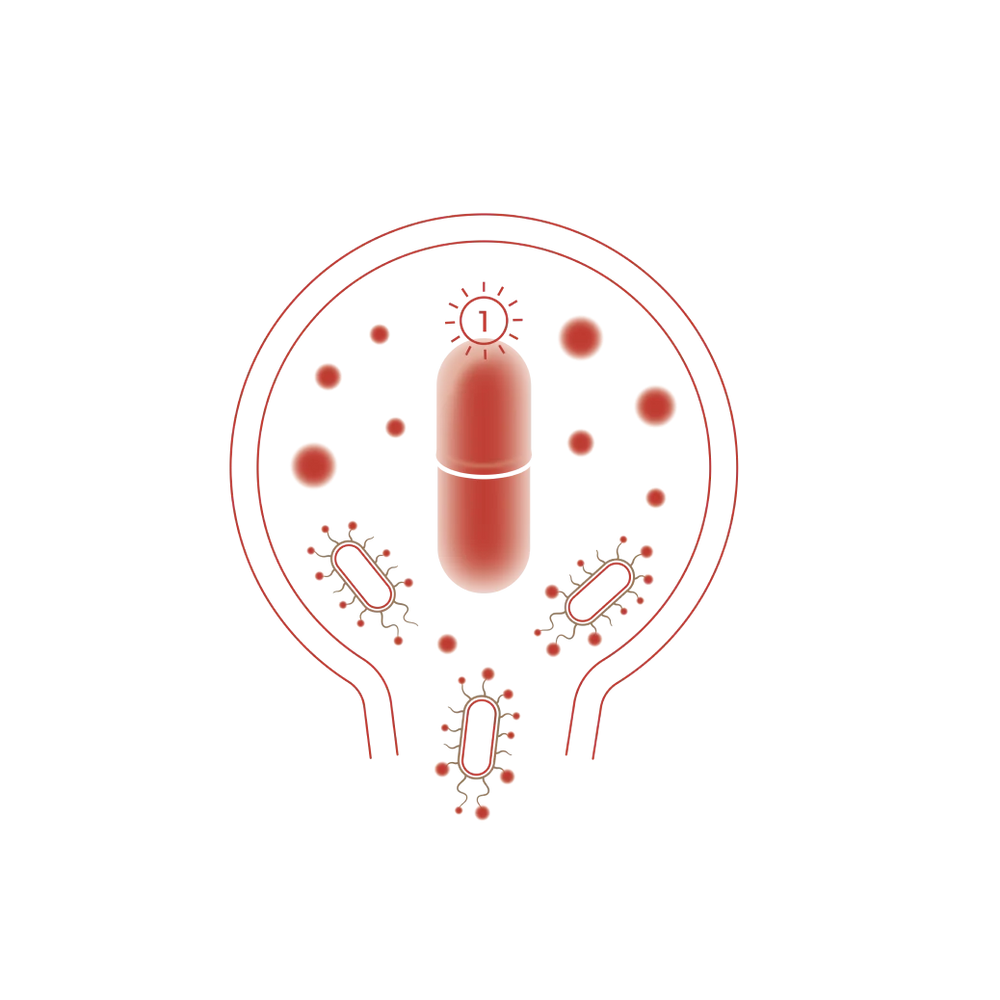 Taking 1 Utiva Cranberry PACs daily ensures you have enough PACs in your bladder to keep blocking the bacteria that cause UTIs.
Not all cranberry supplements are created equal
36mg of PACs
This is the exact, clinically proven dose needed to be effective in preventing bacteria from sticking to the bladder. And the precise amount that is meticulously extracted and contained in every single Utiva Cranberry PACs capsule.
The Measurement Matters
We use the most accurate, standard of measurement, called DMAC/A2 to ensure that every capsule contains the necessary 36 mg of soluble PACs measured in the most precise method possible. Other less reliable standards of measurement can leave you short.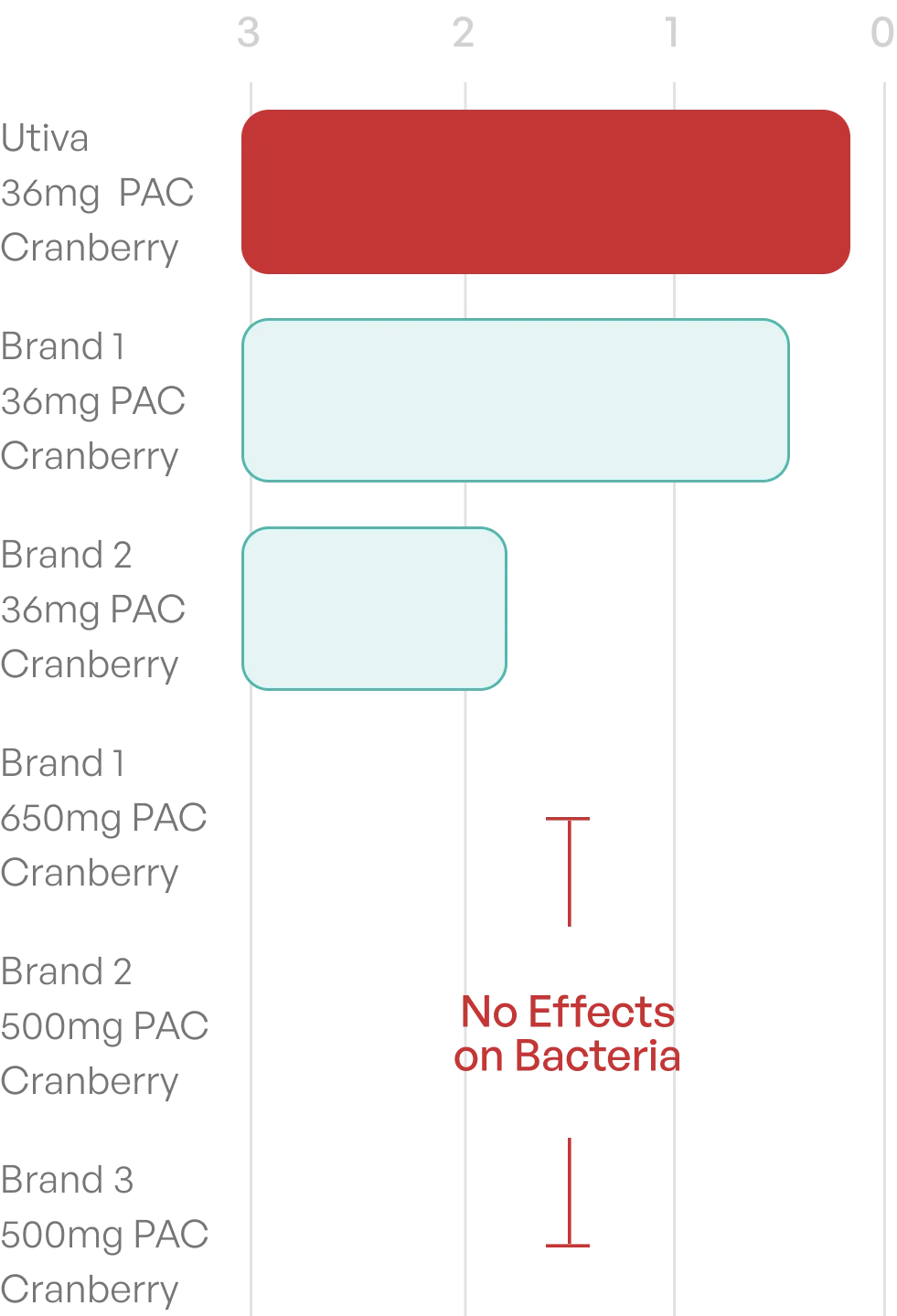 The lower the value, the better the anti-abhesion activity VS bacteria
Ranking from Rutgers University anti-adhesion activity test
Get your Cranberry PACs Supplement
Overview
Details
Ingredients
How to use
Our most powerful all-natural solution for preventing UTIs.
EFFECTIVE & POWERFUL.
One Utiva Cranberry PACs capsule has the clinically proven dose to help prevent UTIs. Cranberry PACs are included in Urology Guidelines and trusted by Doctors.
CLEAN FORMULATION.
Each capsule has the least amount of fillers in one of the smallest size cranberry pills.
ONE PILL A DAY.
Easy and convenient way to take your daily regimen for flushing a wide range of bacteria.

Utiva Cranberry PACs are sourced from North American cranberries and extracted in local GMP certified facilities. We guarantee each capsule provides 240 mg of cranberry extract of which 15% are soluble PACs. This ensures 36 mg of PACs are present in each capsule and measured by the scientific method DMAC/A2 in 3rd party labs.

Non-Medicinal Ingredients: Hypromellose, rice flour.


Supplement Facts
Servings Per Container: 30
Urophenol™ - 240 mg Cranberry (125:1) (Vaccinium macrocarpon) fruit extract providing 15% proanthocyanidins (PACs) = 36 mg PAC per DMAC/A2
† Daily value not established
Prevention:
Take 1 capsule daily around the same time with or without food.
Sex-Associated or symptomatic:
Take 2 capsules the day of and 2 capsules 24 hours later.
Cautions:
Consult a health care practitioner if symptoms persist or worsen and prior to using if you are taking blood thinners or if you have a history of kidney stones.
Bonus:
Utiva is 3rd party tested to ensure Vitamin K has been removed and only trace amount of oxalates exist.
Health Canada Approved
NPN 80104484
$44.99
Save

Liquid error (sections/why-pacs-product line 882): Computation results in '-Infinity'

%
View full details
Powerful concentrate = tiny format
Our smallest pill size thanks to a powerful extract and concentration process of high-quality soluble PACs.
And what we leave out is just as important
No unnecessary fillers - a clean ingredient supplement, delivering just what you need, and nothing you don't.
Virtually no oxalates—ideal for those prone to kidney stones
No vitamin K—making it safe to take with most medications, including blood thinners.
Minimal sugar—only 2 grams per capsule making it a safer option for diabetics.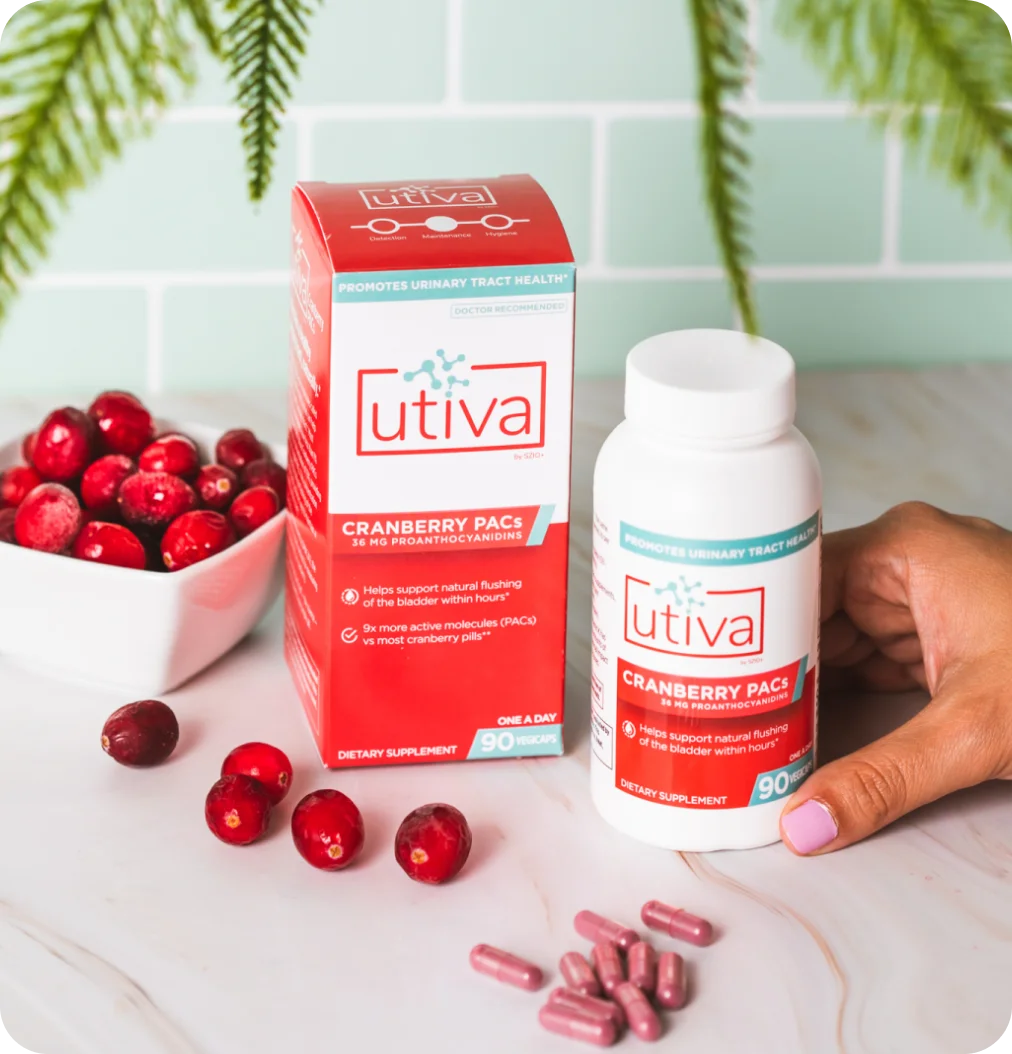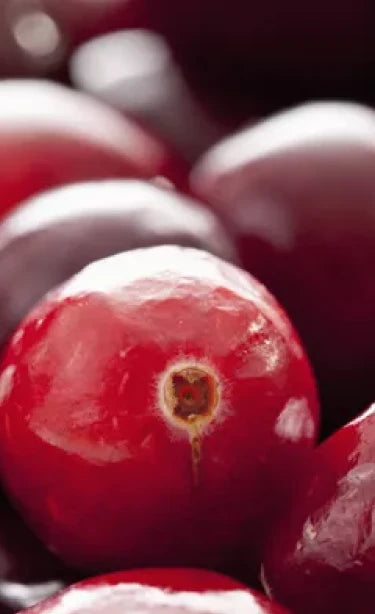 Benefits beyond UTI Prevention
Cranberries are a powerhouse of antioxidants
Antioxidants are compounds found in many plant-based foods that can help protect your cells from damage caused by free radicals
By providing protection against free radicals, antioxidants are thought to help fight the signs of aging while helping to prevent the onset of disease
Shop now
Recommended by over 10,000 doctors
I recommend 36mg of PACs. Antibiotics have a lot of risk, particularly when we talk about bacterial resistance.
Dr. Colleen McDermott
Urogynecologist, Mount Sinai Hospital
What are customers saying about Utiva?
Real Customers. Real Reviews.
Explore Reviews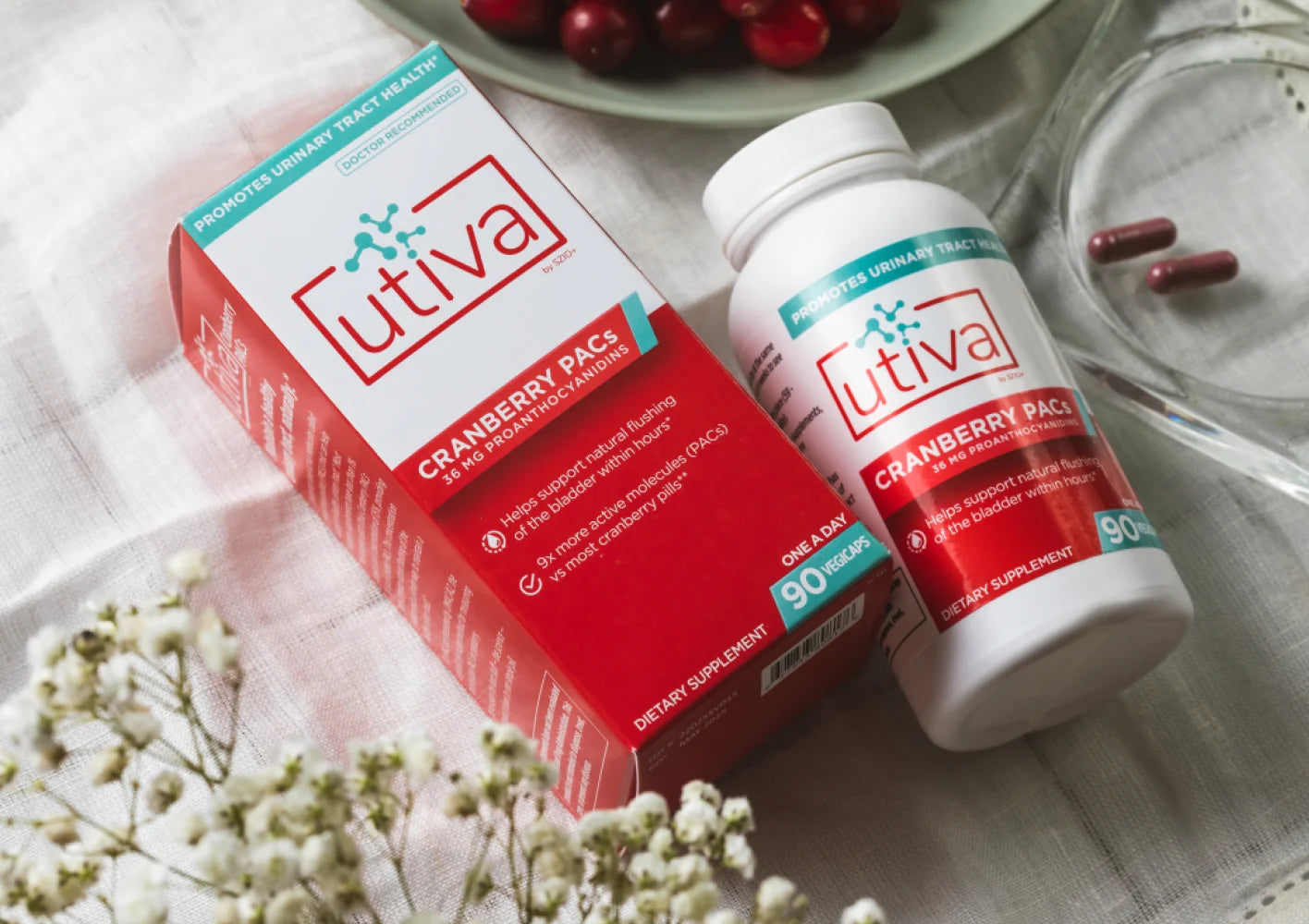 Choosing a selection results in a full page refresh.
Opens in a new window.